---
The Danish warmblood society will be hosting an auction of exclusively selected foals during the 2020 CDI-W World Cup qualifier in Vilhelmsborg on 17 October 2020.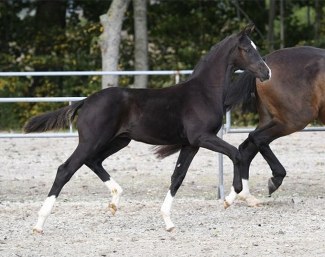 The auction includes a collection of 17 exceptionally bred Danish warmblood dressage and jumper foals.
Pre-bidding online starts on Wednesday 14 October 2020 at 17h00. The auction will be on Saturday 17 October 2020 at 15h30.
The event will be streamed live, so remote bidders can follow the auction and bid online.
A live presentation of the foals will be earlier on Saturday at 11h30.
Janiro Planett (by Janeiro Platinum x Blue Hors Romanov x Leandro)
Auction Highlights
The collection of 17 foals includes several dressage highlights, which are destined for a big career in sport or breeding.
Don Faziano Overskovlund (by Feinrich x Blue Hors Zack x Don) is a noble and masculine colt by the 2015 champion stallion Feinrich. He has three huge and elastic gaits - talent such as this you won't find easily. He is out of a remarkably strong dame-line with 4 Elite mares in direct line, and several medal awarded mares and competition horses.
Overgaard's Verzea (by Valverde x Blue Hors Zack x Londonderry) is an exquisite, well-built filly with an excellent type. She shows three elastic gaits with lots of carriage and push from behind, always moving in an uphill tendency. Her dam line is probably one of the most successful lines in Danish Warmblood. This dam line has produced licensed stallions such as the Gold Medal awarded stallion Blue Hors Zackerey, Overgaards Za Rak, Tailormade Zacksu and Zacman M.
Janiro Planett (by Janeiro Platinum x Blue Hors Romanov x Leandro) is an unusually complete colt in which beauty and functionality meet. He is of modern type, ideal conformation, has high quality movement, and a modern pedigree. The dam is a bronze medal mare by the Grand Prix stallion Blue Hors Romanov.

Zackeis-Ø (by Blue Hors Zackerey x Tailormade Temptation x Blue Hors Romanov) is a unique black pearl showing sublime athletic movements! One can easily imagine this extraordinarily poised and elegant colt's future in the big dressage arenas. The dame-line is the renowned Gravvænge-line, which has produced highly ridable riding horses successfully for more than 100 years. The line includes many Elite- and Medal awarded mares as well as graded stallions.
Other dressage super stars are filly Vogue AW (by Vitalis x Romanov x Cavan) and colt Springborgs Ganeiro (by Janeiro Platinum x Diamond Hit x Heslegards Rubin). The complete collection can be viewed here.
Easy Bidding, Register Online
The 2020 DWB World Cup Foal Auction is a streaming auction. The foals are auctioned in a live event, which will be streamed online.
Bidding can happen at the event in Vilhelmsborg, as well as on the phone, but you can already bid on a foal online from the comfort of your home.
The auction committee is ready to help and contact you when the foal you want is up for auction.
Please don't hesitate to get in touch with DWB for any questions
//Eurodressage
---